Get More Time for More Meaningful HR Work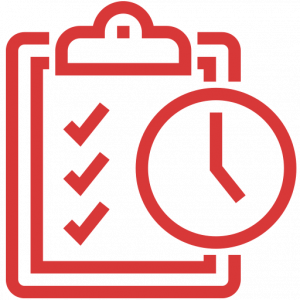 Trusted by companies across industries:













Change the way your business communicate with candidates and employees, for the better
You can use AI driven chatbots to power specific HR processes such as:

Sourcing & Recruitment
Hiring in tens to hundreds brings scale issues for HR. A chatbot can help in the screening process by not only getting prospective employees information but also performing professional background checks and scheduling interviews.

Employer Branding
By deploying chatbots you will get another channel for building a brand and positive PR among candidates. They will receive all the information about you and your culture without waiting and in a cool form.

Candidate Experience
Getting honest feedback on the recruitment process from a job candidate is very difficult and sometimes almost impossible. With well-set chatbot it will be easy and fun.

Onboarding & Retention
Chatbots make on-boarding truly a self-serve process thanks to the ability to talk to employees onsite and interact with workforce management software. Ensure that your new arrivals get everything they need to adapt just smoothly.

Employee
Support
Employees spend many hours each month searching for basic company-related information. Chatbots can serve as a virtual HR assistant that helps them get answers they are looking for, making them more productive and satisfied.

Employee
Training
HR training using chatbots is very effective since it involves more interactive participation by employees rather than sitting through a standard training video or watching a powerpoint presentation. It can be also used for spaced interval learning.

Benefits Enrollment
Benefits enrollment is one of the most confusing and frustrating pieces of the HR process. Employees spend vast amounts of time trying to understand the process and complete the required forms etc.

Instant Employee Feedback
More than 58% of HR managers say that the traditional review process is outdated and ineffective. Chatbots allow for the instant exchange of feedback and performance insights that allow employees to be the best at what they do.
What we have achieved in this sector
Chatbot implementations across HR processes.
Interactions with users handled between 6 pm to 10 pm last year.
Messages sent between chatbots and users last year.
Hours of repetitive work saved for our clients last year.
Start using chatbots within days
Our chatbots are easy to plug-and-play and work with your standard HR technologies.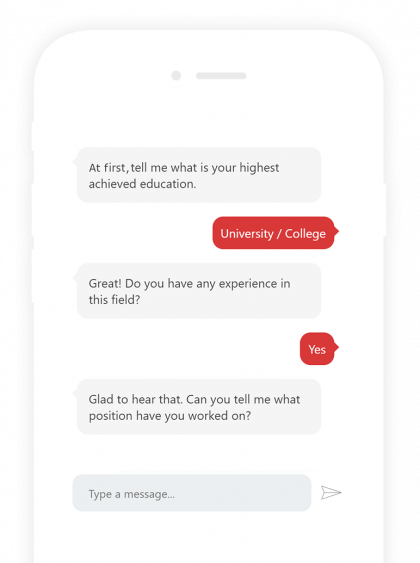 Chatbot templates
Optimized and market-tested chatbot templates for hiring people for strategic blue and white-collar positions, as well as for employee onboarding, support and satisfaction.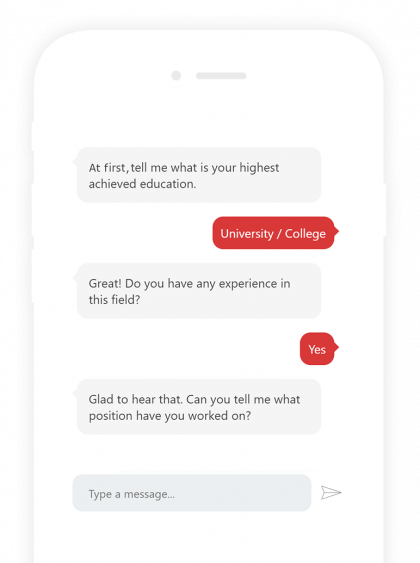 Pretrained NLP models
Understand what your candidates and employees are saying thanks to natural language processing. Use our pretrained and proven models for various topics such as general candidate and employee queries, vulgarism, different language detection etc.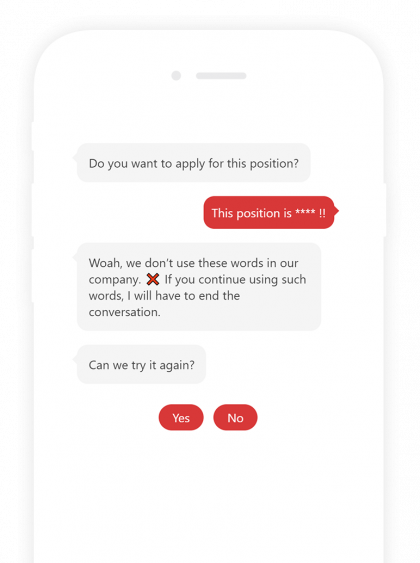 ATS & CRM ready-to-use integrations
Connect chatbots with your HR systems.

Running on different messaging apps and internal platforms
Deploy chatbots on any communication channel.

Measure your activities
Connect chatbots with these services.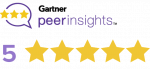 Complex HR chatbot solution with ROI 281% after 3,5 months
"We used Feedyou AI-Driven Bot Ecosystem to build chatbots for our HR processes, especially for recruitment, with aim to approach passive candidates whenever and wherever they are, to automate our staffing processes, to increase conversion and reduce costs. Currently running 8 chatbot solutions in 5 countries in CEE. Planning to expand across Europe and to use Feedyou technology for example for candidate testing, onboarding, research work and employee satisfaction."
Jitka Součková, Marketing Manager @ Grafton Recruitment
These chatbot solutions can be yours.
Let's connect and get a free opportunity analysis.