AI Driven Chatbots as Part of Digital Transformation
The role of automation has never been to fully replace human workers, but rather make our work easier. Smart technologies with chatbots and conversational artificial intelligence enhance communication between teams, speed up onboarding and employee adoption, and streamline internal helpdesk and service desk.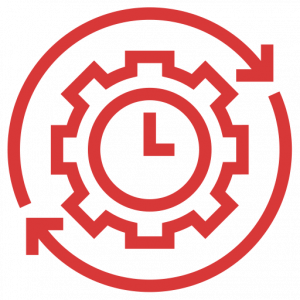 Trusted by companies across industries:








What benefits we deliver through AI driven chatbots

Instant support
Immediate response to a new employee need or requirement.

Faster onboarding
Shorter learning curve of a new employee during the first days at work.

Interactive guiding
Chatbot as a key point navigation and process validation for new employees without need for personal supervision.
Great to implement chatbots for the following areas
01. Onboarding and trainings

Chatbot as an interactive workplace guide
Where is the canteen?

How can I order lunch?

Where do I get my work clothes?

Where

do

I find toolboxes and

work

material?

How do I get to my workplace?

Which machine I am supposed to work on?

I have a problem with my tools. What do I need to do? Where to go?

Possibility to use chatbots for entry trainings and spaced-interval learning

Collecting instant feedback and measuring employee satisfaction

Working on any device – mobile, tablet, VR/AR device
02. Internal communication

Automate common enterprise IT, HR and customer service scenarios.

Use chatbots for document depository & search across knowledge bases.

Handover users to your live agent support whenever needed.

Chatbot as an interactive technical support

and ticketing tool.

Can retrieve relevant data from various 3rd party systems.

Can trigger online diagnostics and direct user to

the

proper solution.

Fix known issues by itself (restart some service, etc.).

Chatbot as a tool to preserve the empiric knowledge within a company.

It can manage processes, guides, checklists, etc.

Can be connected with documentation to make it easy to follow by showing only relevant piece of information at any step.
Feedyou AI-Driven Bot Ecosystem can be plugged-in with: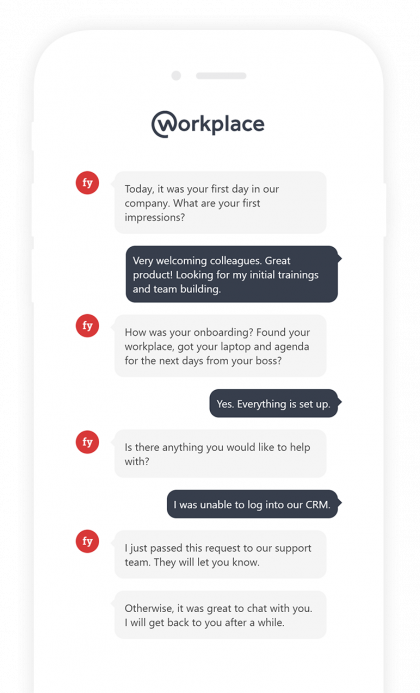 03. Employee satisfaction
More than 58% of managers say that the traditional review process is outdated and ineffective. Chatbots allow for the instant exchange of feedback and performance insights that allow employees to constantly be the best at what they do.
Our ready-to-use solution can be among your employees within hours, in both standardized and fully-custom chatbot version.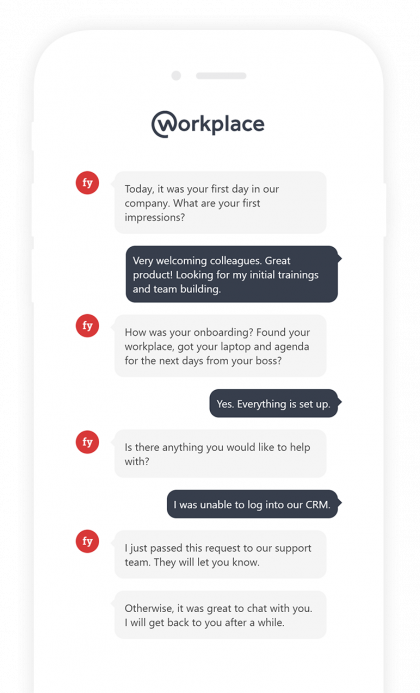 Hiring in tens to hundreds brings scale issues for HR. Chatbot can help in the screening process by not only getting prospective employees information but also performing professional background checks and scheduling interviews.
It doesn't matter if you search for people for your production department, backoffice or for your business or development team,
our ready-to-use solution can help you.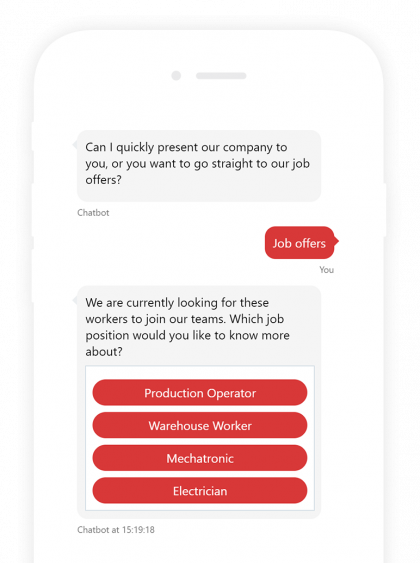 These chatbot solutions can be yours.
Let's connect and get a free opportunity analysis.