Create virtual assistants
in a blink of an eye
Feedyou Platform enables anyone to efficiently create and manage advanced virtual assistant solutions from a single place.
Everything on hand in one place
Creating and managing virtual assistants has never been easier. One tool, infinite ideas.

Easy to use
Up until now, creating large-scale assistants has been difficult. Working with our platform is a cakewalk, and it feels natural. You don't need specialists or IT, anybody can master it.

All in one
Log in and start creating. All the tools are always at your fingertips. Build communications, track analytics, set up NLP models or integrations. All from one place.

No code
Programming? No way. Everything is conveniently taken care of from our designer, which you can run comfortably in your browser, wherever you are.

For all languages
We'll leave you to decide what languages your virtual assistants will speak. You can even teach one assistant multiple languages and switch as needed.

Feedyou Platform has brought us a whole new world in the digital environment
Czech marketing agency RPSC ideas uses chatbots to improve communication. They use Feedyou Platform to create their own virtual assistant solutions to help their clients across multiple fields.
50+
solutions created on the platform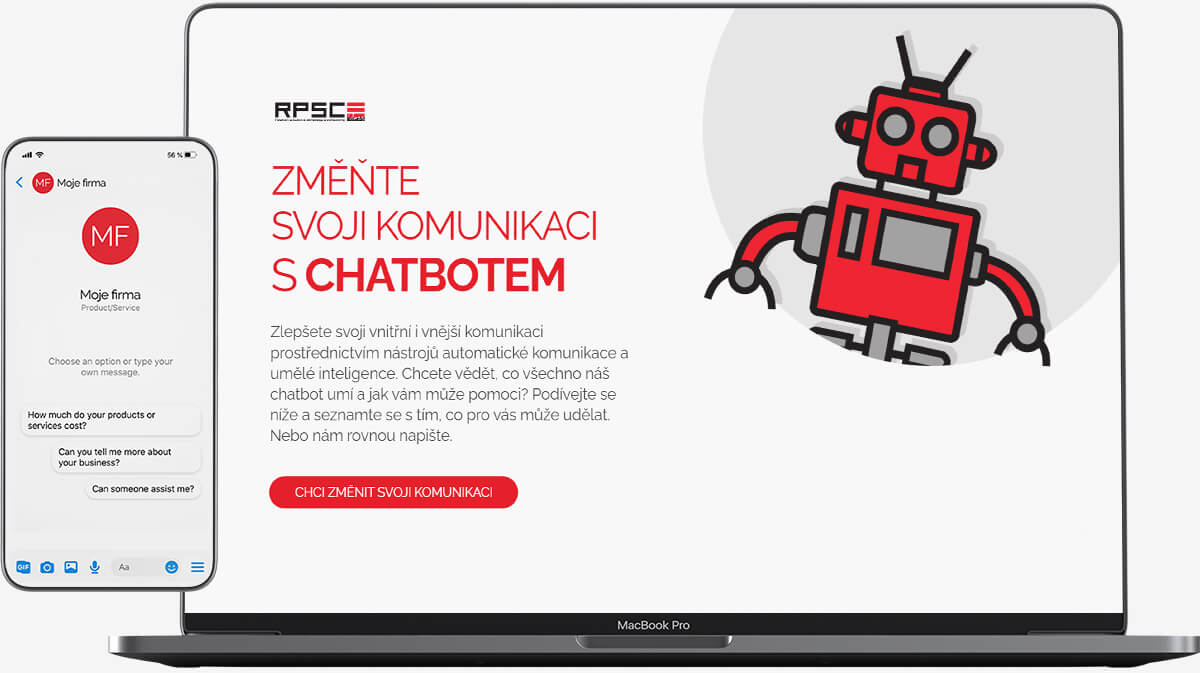 What they say about Feedyou Platform

As a communications and marketing agency, we are well aware that the future of communication is in the online environment and automation. Chatbots fulfill both, which is why we successfully deliver this option to our clients. Thanks to Feedyou Platform, we can quickly and efficiently provide the creation and management of a chatbot. Not just in communication, artificial intelligence adds value to any entity that moves with the times and is open to progress, which is why we love inventing new ways to use chatbots in almost every field. The cooperation with Feedyou was a step in the right direction. Mgr. Roman Štěpánek, Managing Director @ RPSC ideas

Thanks to the Feedyou Platform we are able to deploy chatbots on new projects on our own, or quickly modify existing ones according to current needs. The chatbot itself is a great help not only to us, but also to our clients – in several steps it helps them with estimating the price of the property, leaving contact and choosing the form of further communication, and brings us new business at the same time. This type of automation is central to several of our projects and helps us grow. Building our own assistants is not complicated and Feedyou is a reliable partner in all situations. Jan Babka, Marketing a PR @ NEXT REALITY
Who else trusts our platform





Feedyou Platform
It's the way you say it. That's what we go by and why we build our platform so that people and virtual assistants can understand each other.
Feedyou Platform
Channels
With Feedyou Platform, you're within arm's reach of people anywhere. Via voice or text, on different apps or devices. Set everything up from one place.


Feedyou Platform
Conversation Designer
A simple and intuitive designer right in your browser that anyone can handle.

Conversation Designer
With the Conversation Designer, you can easily create a communication tree within minutes. From small ones to the largest ones.

NLP Designer
Deploy smart NLP models and train them in time, thanks to the on hand NLP designer.

Change History
Work fearlessly thanks to a full history of changes with the ability to revert back at any time.

Languages and content variants
It's entirely up to you what languages each assistant speaks. You can switch manually or by detecting the user's language.
Feedyou Platform
Integrations
Make your virtual assistants even more powerful by connecting them to other systems or services.

Third-party services
Connect your assistants not only to your company systems, but also to any third-party service. Whether it's weather forecasts, fuel prices or property price maps. The possibilities are endless.

Analytics
Use our interactive PowerBi report to track and measure the results of your assistants. Or connect other tools.

NLP Models
Feedyou Platform is very proud to own its custom NLP engine. At the same time, however, you can run other third-party models alongside it if you wish.

Ready-To-Go Integrations
We have more than 10 ready-to-go connections with third-party systems that you can use at any time – SAP Success Factors, Talention and other ATS or CRM tools.
Try them out on your own
A demonstration to help you understand how our virtual colleagues work.

Ring our voicebot
Call our voicebot and schedule an online or physical meeting in selected times. We'll send you a confirmation SMS too.

Text our chatbot
Check out how our chatbot Feedie introduces Feedyou on the "About Us" page and looks for talented people who would like to work with us.
Entering the world of virtual assistants may not be for everyone. That's why our agency, full of experienced specialists, is always at your disposal. Whether you need a small consultation or want us to build you a full virtual assistant.
Interested in Feedyou Platform?
Or give us your contact details and we'll get back to you
within the next business day: