Virtual assistants (chatbots, voicebots and mailbots) are becoming an increasingly important part of companies' communication with their customers or employees. They can handle a lot from scheduling meetings, screening candidates, to performing certain job tasks. And integrating with third-party systems can make them even more powerful.
What benefits do integrations bring?
1. Automation
Sorted emails, scheduled meetings, pre-selected candidates and answered questions. Sounds like a great end to your work day. And what if we told you that a virtual assistant could do all of that for you? Connecting it to other data sources like your calendar will give it all the power it needs to automate at least part of your workday and save you hours of work and hassle.
2. Satisfied customers
The virtual assistant is at home in customer support. In connection with your website or e-shop, it can make customers happier not only by providing quick and accurate answers to their frequent questions. You'll reduce wait times, improve the overall customer experience and ultimately move them one step closer to purchase.
3. Reducing human error
When your job becomes repetitive, it's easy to lose focus. The virtual assistant is particularly useful in the area of preboarding, where it can automate a large part of the administration that makes you want to jump back to bed in the morning. It also makes a lot of sense in the area of finance or handling complaints in customer support.
4. User identity verification
Whether it's customers, employees or clients, the ability to authenticate a user can take the capabilities of your chatbot or voicebot to the next level. Authentication is based on information gathered from the user, as well as, for example, communication from a secure channel where we already know who they are. It is suitable for banking or finance, but also for any other enclosed internal system.
5. Higher employee efficiency
Virtual assistant is a sidekick that never sleeps. It automatically takes care of some tasks, leaving you time to be more productive. Our clients benefit from integrations most often in HR and customer support. For example – if a chatbot is connected to your ATS / HR system, it can read and write data about candidates during the recruitment process right where the recruiters work with them on a daily basis. It also checks the data beforehand so you don't have to go back and fix it. In preboarding and onboarding, it can remind employees to submit necessary documents or remind them of scheduled training sessions, and in internal communication, it can search the system and knowledge bases for information for employees.
Which integrations have proven successful?
Integration with ATS / HR systems
We have been creating virtual assistants for HR since the very beginning of Feedyou. And we know that we can hardly go without integrating with the HR/ATS system. It is by connecting to the system that HR staff use on a daily basis that we are able to automate much of the workflow and free up their hands. The virtual assistant communicates directly with the system, from which it can draw data, but also write to it without the need to involve a human colleague.
What can a virtual assistant for HR handle?
✅ setting up a candidate card
✅ setting up an employee card
✅ collecting all documents and information needed to issue an employment contract
✅ arrange an interview according to the possibilities of both parties
✅ screening and pre-selection of suitable candidates
✅ notifications and ticketing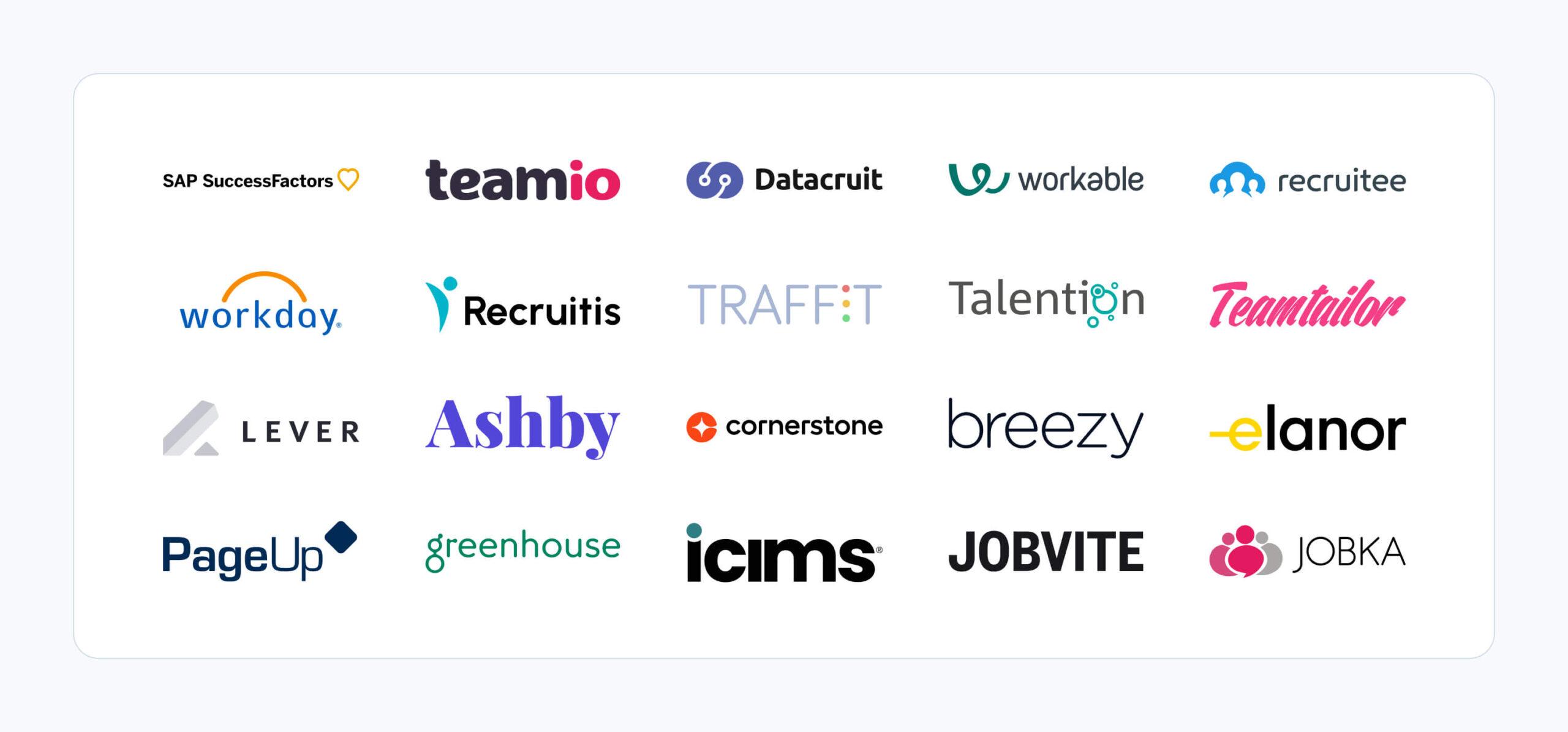 Integration with CRM / ERP systems
A virtual assistant is also a valuable tool for customer support. It can answer common customer questions and pre-filter them, saving your employees time on chat or calls. It can help with personalized communication with customers, recognizing and tracking their needs, and last but not least, collecting and evaluating data. Connecting with omnichannel platforms is a recipe for happy customers, where the virtual assistant does not replace the operator but perfectly complements it.
What can a virtual assistant for customer support handle across industries?
✅ user authentication
✅ checking the order status
✅ reporting of insurance claims
✅ reseting passwords, or changing limits or pins
✅ arranging a test drive at the dealership
✅ real estate evaluations based on price maps
✅ and much more…

Integration with omnichannel (call center) platforms
Connecting with omnichannel platforms is a recipe for satisfied customers, where the virtual assistant does not replace the operator, but perfectly complements it. It takes care of frequent questions and, for the more complex ones, it can pass the user on to a live agent with all the details of the previous conversation.

Integration with other third-party systems
Setting up tickets in Jira, tracking performance in PowerBi or Google Analytics, connecting price maps? No problem! Virtual assistants bring automation truly anywhere.

Let's create something amazing