Learn from the top 10 failures in chatbot and voicebot development we see among our customers and partners. We bring a comprehensive breakdown of common failures and how to avoid them.
Failure number 1️⃣
❌ No business objective hence low customer experience
When designing chatbots and voicebots, it's very common for people to overlook the customer's perspective.
They don't consider:
Business objective – customer support, lead generation, after-sales support etc.
Value for your customers – the most important customer aspects are resolution time, resolution quality (accuracy), support team availability, …
How your customers solve their issues now
How chatbot or voicebot would improve the current status quo
How you should get started:
Analyze your processes (for example customer support touch points)
Define what the chatbot or voicebot will be solving
Involve your customer support team
Assign responsibilities
Calculate business impact
Failure number 2️⃣
❌ Pure copywriting
Text dialogs are 99% of a chatbot and voicebot communication (the rest are emojis, multimedia content like images, videos and STT/TTS when it comes to voicebots). Copywriting (conversational design in our terminology) is essential. ☝️
Common failures:
No defined persona
Not disclosing the communication is held by a virtual assistant
Lengthy texts (no-go for voicebots especially)
Unclear conversational structure
Answers in one long chat bubble
No buttons to navigate through the conversation
Fonts not corresponding with websites
No branding
No emojis
Wrong emojis
Tips to improve your chatbot and voicebot copywriting:
Involve your marketing team
Create an internal team from various departments and roles to test
Test responsivness on multiple devices – mobile, tablet, desktop
Ask your family and friends to try (different age groups if possible)
Take a course (for example at Conversation Design Institute)
Here are some examples of intro messages for our customers:
Good morning, my name is Simona and I am a virtual assistant for Sportisimo. 👋 I know the answers to the most common questions and I'm happy to help you with your order.
Hello! I'm chatbot Martin and I can find you a suitable job in your chosen location. Shall we get started? 🙂
Hello, this is virtual assistant Tom. I'll help you find answers to your questions fast! What can I help you with?
Добрий день! Я чат-бот Мартін, і я вмію знайти відповідну для Вас посаду в обраному місці. Ми можемо почати? 🙂
Good evening. Welcome to Toyota! 🙂 I'm chatbot Anna and I'll go over all the information you need to know about our cars with you. Come and get your dream car! ❤️
Failure number 3️⃣
❌ Long texts
Don't write essays because:
Audience's attention span is short
They will stop reading or listening to you
Customers will bypass the chatbot or voicebot
Chatbot or voicebot usage will be low
Business gains will lower over time
On top of that, you spend more money on traffic. Chatbots are usually priced for chat interactions / incoming and outgoing messages, and for voicebots you usually pay per call-minutes.
Tips to improve:
Get straight to the point
Remove unnecessary information
Remove marketing slogans
Break long text under more chat bubbles or involve buttons
Ask questions and gradually provide information according to the customer's needs and context
Failure number 4️⃣
❌ Different branding and tone-of-voice
WebChat design:
Chat color and style is not aligned with your brand identity
Different font then on your website
Brand identity not reflected in the copywriting
Tips to improve:
Use WebChat welcome pop-up message
Choose appropriate color for chat and buttons
Set the same font, size and spacing as on your website
Use your marketing characters
Use your product / service terms
Use your tone-of-voice (formal / informal, nodding / howling, company jargon etc.)
Custom-Neural-Voice as part of your sonic identity
Use avatar of your employee to attract users
Use emojis to catch attention
And don't hesitate to use GIFs – thank us later 🙂
Failure number 5️⃣
❌ Not using buttons or using just buttons
To press a button is faster than writing on a keyboard (or dictating to a microphone). It's even more valid if you know that roughly 63% of communications are from a mobile phone.
Wrong conversation design:
Using button-based chatbot only
Not using buttons at all
4+ buttons in one answer
Long titles in buttons
No way to go back (no return button)
Tips to improve:
Combine AI (Natural Language Processing and Understanding – NLP/NLU) with buttons to navigate the customer through the conversatio
Use sub-questions and sub-answers if you need 4+ buttons
Split long text between buttons
Add emojis to self-explain
Add multimedia content (images, videos, GIPHs etc.) to self-explain
Another 5 failures coming soon…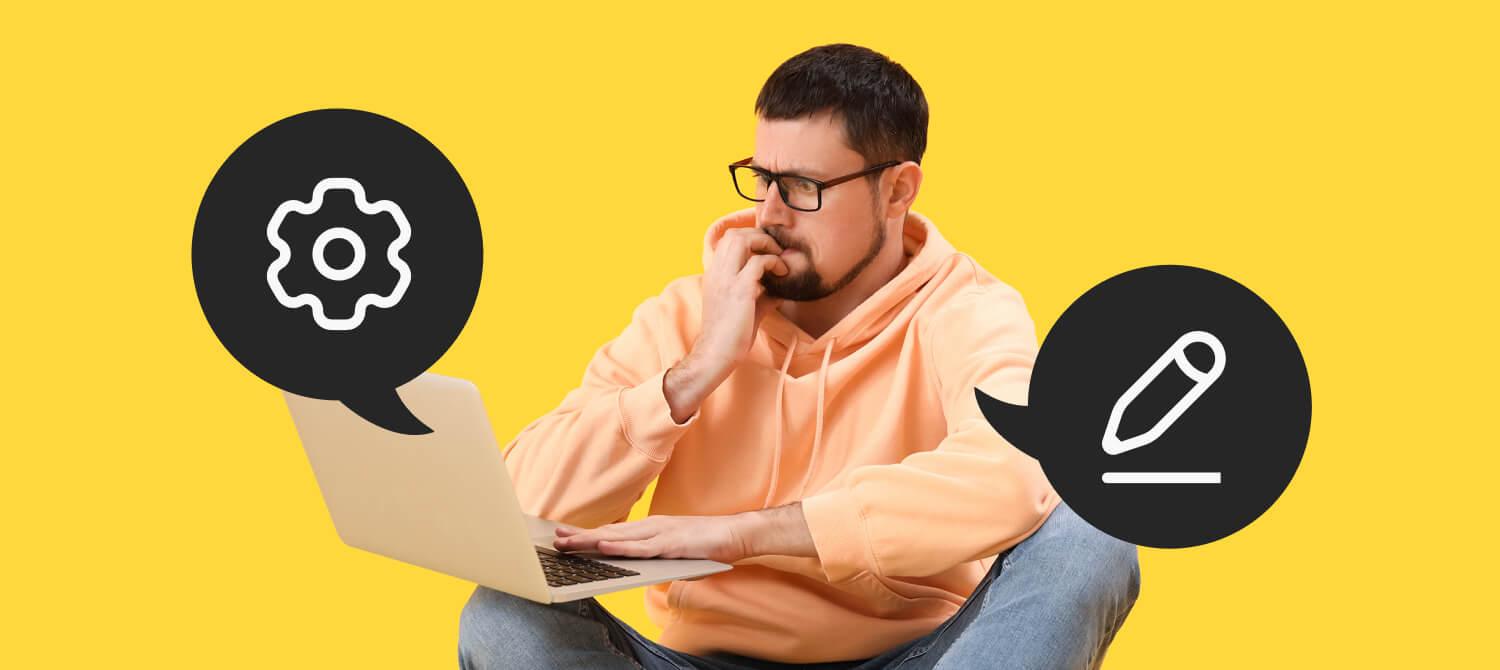 Top 10 Chatbot and Voicebot Fails to Avoid #2
We'll get back to you soon with the final TOP 5 most common failures and how to avoid them when building chatbots and voicebots.
Let's create something amazing