Challenge
Do you know where your nearest post office is? The Czech Post has over 3,000 branches in our country alone. Therefore applicants have hundreds of positions to choose from, some suitable for them, but others not so much. How about giving them a hand and recommending positions that fit them? Of course! We're sending out a chatbot to help.

Solution
We named the new virtual colleague "Martin", after his live double from the Czech Post. And Martin really brought it. He recommends jobs to candidates based on their address and qualifications. He's helped more than 68,000 people since 2020. His greatest asset – he handles almost half of the communications outside working hours.

"We chose Martin, a Czech Post employee, as the chatbot avatar. Martin was at the birth and growth of his virtual doppelganger, and is very happy that his namesake is helping people find their way to the Czech Post."
Jana Kup, Account Manager

You're scrolling through the Czech Post website and it's getting a little bit overwhelming. That's why chatbot Martin pops up and offers to find, introduce and recommend a suitable job just for you.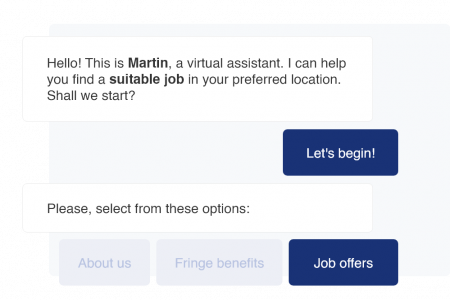 Martin then takes notes of your address and other details, such as your education or driving license group, and sends a letter to Teamio, the client's ATS system.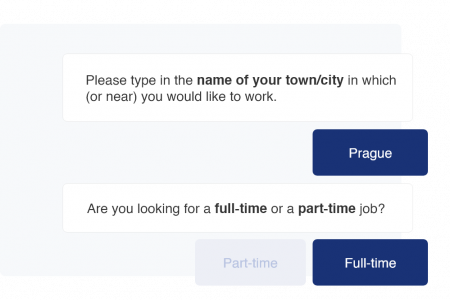 A reply from Teamio comes back immediately with a list of suitable positions. Martin displays filtered jobs and you can choose among them. If you like one, all you need to do is to leave your contact details.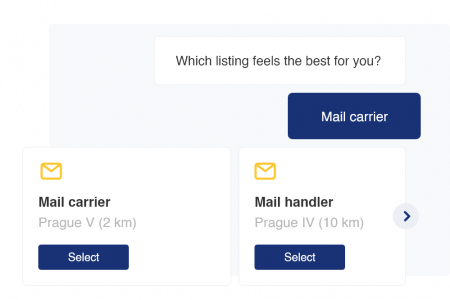 0
%
conversations outside working hours
0
people found an ideal job in 2021
0
min
to find the ideal job

"We wanted to liven up the communication with Martin a bit and hook the candidates right from the beginning. Therefore, together with the client, we designed a quick, optional 3-question quiz where we ask about the color of the Czech Post's mailboxes. Surprisingly, up to a third of all users pass the quiz and then rate the overall communication more positively."
Jana Kup, Account Manager
Martin's amazing features

Warm up quiz
Martin can get the conversation started with an optional 3-question quiz. He asks the candidate how many parcels the Czech Post delivers each year, what is the color of their mailboxes, and how many post offices there are in the Czech Republic.
Do you find such a quiz unnecessary? Well… we don't, because up to a third of all applicants pass the quiz and then give Martin a higher rating after finding a suitable position. It's all about the experience, right?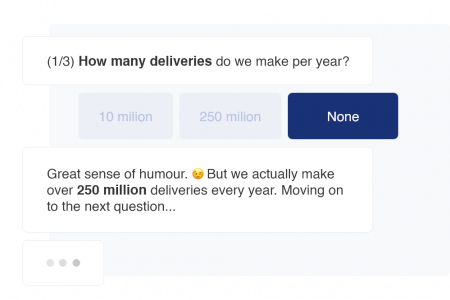 Search jobs by address
Based on the applicant's home address, Martin can search a Czech national database called "RÚIAN" (register of addresses and real estate) and connect it to the nearest branches of the Czech Post. If he filters out more than 9 jobs, he will sort them by field.
And if it doesn't work out on the first try, the candidate has the option to change their reach radius – for example, to increase it by 20 km.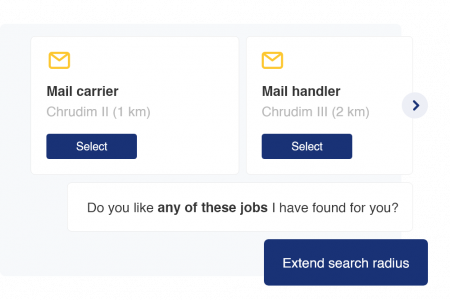 You shall not pass
Something that no proper recruitment chatbot can do without, is pre-set "one-ways". In short, if you don't own a Group C license that allows you to drive large trucks in the Czech Republic, you simply can't become a mail truck driver for the Czech Post.
Instead, we will offer the candidate positions that are a real fit, thus only filtering out the most suitable candidates for the recruiters.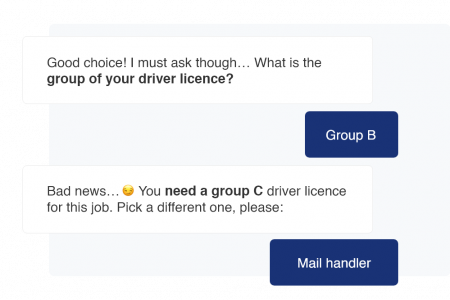 We are going to power up Martin with artificial intelligence in his own NLP model. This will help with the common and general questions, such as "How much do I get paid". This way, candidates can ask questions right away and get an immediate answer. We can track the FAQs and continuously train the NLP model for better answers.

The last census in the Czech Republic happened in 2021 and there's a lot of manpower needed for such an event. With the Czech Post, we have added another communication area to Martin – recruitment of census commissioners and temporary workers. In short, if the need arises, we can quickly expand the chatbot and hit the ground running in the future.
What did they say about us
We were looking for a new way to reach candidates on our career site and help them navigate our wide range of jobs. Thanks to our collaboration with Feedyou, we have succeeded – chatbot Martin is a great asset to our online communication and actively brings us new candidates. We are constantly improving our chatbot and continuously expanding the work areas so that communication is fun and helpful to the candidates. Feedyou brings interesting solutions, flexibility and support. Ing. Monika Lebedová, HR Manager @ Česká pošta

About the Czech Post
Czech Post is a national state-owned enterprise operating postal services in the Czech Republic. It runs over 3,000 post offices, hundreds of other pick-up places, and other partner establishments. Over 27,000 employees wear the color yellow and the Czech Post is looking for more colleagues every day.
Does this story sound like it could be yours?